About Pacific Northwest Timbers LLC
The sister company to Crossroads Recycled Lumber LLC, Pacific Northwest Timbers LLC is Located in Port Townsend Washington. PNT offers the same beautiful reclaimed ecologically sound wood products as Crossroads.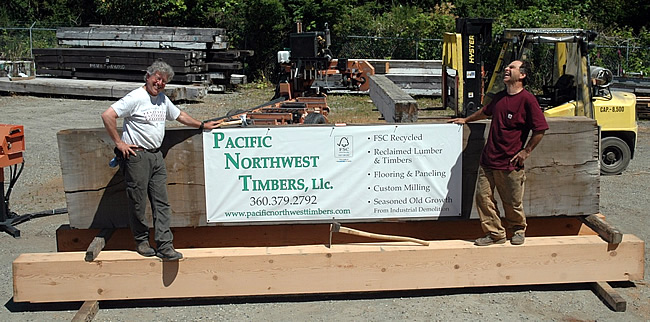 Jake Jacob and Marc Mandel have a vision. Their vision is to provide you with the best, ecologically and socially responsible FSC® Certified reclaimed wood building products in the Pacific Northwest. Their vision culminated in the creation of Pacific Northwest Timbers LLC.
At Pacific Northwest Timbers you'll find reclaimed wood lumber products for your residential and commercial construction projects. Like Marc's longstanding and reputable Crossroads Recycled Lumber LLC, you'll find top quality exquisite building materials that are also ecologically & socially responsible.
Obtaining your reclaimed wood products for new construction, remodel and other uses from PNT assures you'll have the expertise & integrity of Marc, Jake and the PNT crew working for you.